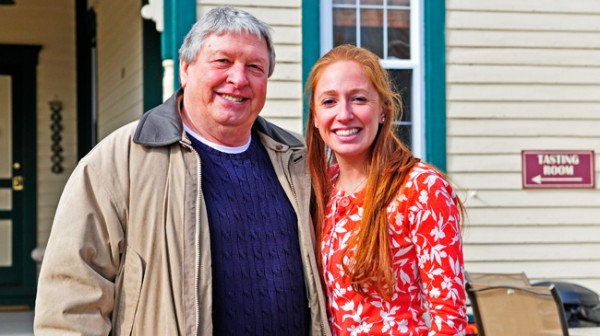 Life for Gino Razzi is flush with wine. More often than not, it belongs to someone else.
Though he's known as the owner and winemaker of Penns Woods Winery, Razzi's primary business is handling other people's product. His decades-old importing company, Viva Vino, tucked across the street from his decidedly non-descript winery in the decidedly non-descript Delaware County borough of Eddystone, specializes in Italian and French wines. Business is cracking and, to give a sense of scale, Razzi notes he's the exclusive U.S. importer of the Zaccagnini line from Italy, moving more than 185,000 cases annually.
As a passionate pragmatist, Razzi considers Penns Woods a hobby but it doesn't seem to diminish his commitment to making serious wine in a challenging clime. "A small winery is not very profitable in Pennsylvania…because I want to do things my way," he said. "Elbow grease is very expensive."
When I originally met Razzi, nearly three years ago, he was under the influence of a stressed schedule. Something had to give, he admitted: "When you get busy the hobby slides."
Not long after that, relief – and a younger perspective – arrived in the form of Razzi's daughter, Carley Razzi Mack. An energetic 26-year-old, Mack has spent the past couple years taking the reins of the winery's marketing efforts and helping recruit other twenty-somethings to freshen the image: A sales representative to boost retail presence and a tasting room assistant. Mack says she wants to emphasize "fun wine" and food pairings to help expand the winery's female following.
Her father seems to approve. "Carley, she took over the marketing and now we've got much more presence," he said, seeming to delight in the abundance of his winery's assets, established and newborn.
During our time together at Penns Woods's tasting room and vineyard in Chadds Ford, Razzi drove in and out of rows of vines, highlighting replanting efforts, spacing, yields, his 40-year-old Chardonnay vines and properties of the soil ("I get a lot of flinty wines"). As he spoke, his active eyes scanned the land and his voice modulated between pensive, Italian-lilting baritone and sing-song excitement.
He explained that the Chadds Ford vines are only a small part of the Penns Woods story, while Lancaster County grower Jan Waltz supplies the lion's share of the grapes. The partnership has been in place for about six years and Razzi can't overemphasize his faith in Waltz: "He's a great grape grower. He's the best in Pennsylvania. By far."
Also on the horizon is a 20-acre property purchased near Black Walnut Winery in Chester County, where Razzi is planning a few acres of Pinot Noir, amongst other varieties, for the sloping, sandy soil. "I'll have the best vineyard over there," he boasted.
In hindsight, he's especially fond of his 2005 and 2007 bottlings. The 2010 wines, yet to be released, are "going to be good." He looks forward to a promising 2013 vintage, especially for Chardonnay. "2012 is not too bad, either," he reckoned.
He's right. During a brief stop at the Eddystone winery, Razzi poured two glasses of last year's Chard, straight from the spigot of a fermenting tank. "[Due to rain] we did not have a great vintage," he admitted, swirling the cloudy, aromatic liquid. The result, however, belies expectation. The wine is fully-flavored, blessed by acidity and lean minerality, with a touch of oak and a long finish.
I've sampled many Penns Woods wines and they can be remarkable. The 2005 Merlot Reserve is concentrated and intense with great structure, as is the 2005 Cabernet Sauvignon Reserve and the 2007 Merlot.
"I want to make great wine with Penns Woods," Razzi confirmed. "(They're) not too easy to drink. You really have to understand it…It's rich, austere, they're right in your face. It's not a wine for a novice."
2012 was a winning year for other reasons. It saw the beginning of Bancroft, a second label for the winery. "[It] was to make a little more of a commercial wine, and also to make my Penns Woods wine better," he said. The primary brand, earmarked for Razzi's reserve wines, is made exclusively from Pennsylvania fruit. Bancroft will aim to achieve a similar end but will give the winery the latitude to go out of state if necessary.
The new line is named for the well-heeled preservationist William Poole Bancroft, whose trust protects open space in the lower Brandywine Valley. Currently offered as Riesling, Moscato Canelli (both 2012 and $19), non-vintage rosé ($22) and non-vintage red blend ($19), it's highly approachable wine. For the Riesling, a focused, generously-sweet-yet-balanced effort with piercing aromas, Razzi imported about 75% of grapes from Cameron Hosmer of Hosmer Winery in the Finger Lakes. The balance was sourced locally, from Brian Dickerson, formerly of Stargazers in Chester County. Fond of his accomplishment ("Came out pretty damn good."), Razzi will plant Riesling in the Chadds Ford vineyard for future efforts.
The sweet Moscato, also a first for Razzi, is distinguished by its powerfully peachy nose, and a focused, acidic and complex profile. In the past, he used about 50 pounds of Moscato from Waltz to blend into the Penns Woods Viognier, but the compelling results of the standalone bottling merit a deeper investment, and Razzi says he plans to produce a lot more next year.
The Field Blend Red, a cuvée of Cabernet Franc, Merlot and Cabernet Sauvignon, dances along line of tartness, crackling acidity and earthiness. Red-fruited and alive, it's a good match for food (think chicken or pasta) or on its own. "Basically, the wine I don't know what to do with (goes into) Field Blend Red," said Razzi.
Buying Razzi's wines is possible through a few channels including the tasting room and a variety of retailers like Philly-area Wegmans, occasional pop-up kiosks at Whole Foods (where Penns Woods selections are periodically offered through the pubs) and farmers markets in Ridley Park, West Chester, Oakmont and Lansdowne. Likely due to the influence of Mack, they've served as the exclusive wine vendor for Night Market Philadelphia, they're on the Vino Volo list at the Philadelphia Airport and can be found in restaurants ranging from White Dog Café and Barclay Prime to Paramour in Wayne and Kennett Square's Sovana Bistro.
Times are good for Penns Woods. The flush life – with a boost of hipper, livelier energy – suits Razzi. His aura, if you buy into that kind of thing, more resembles a zippy Riesling than a dense pour of Cabernet. At times, the humor floats over him like a halo.
There's good reason to be satisfied, and it's not lost on him.. "I'm not doing this for the money," he said. "I'm doing this for a legacy, I guess. For a personal satisfaction."
Thankfully, a satisfied vintner can draw high achievement from the stingy earth. "On a good day, we can swing with the best of them," Razzi said in his upbeat tone. "You just give me a decent vintage, good grapes, (and) man, we'll blow them off the water."
Penns Woods Winery
124 Beaver Valley Rd
Chadds Ford, PA 19317
(610) 459-0808